SPACE AND WORDS FOR DANCERS
This project began with a week of work led by Julyen Hamilton and Billie Hanne, in July 2015. It was hosted by Chisenhale Dance Space and curated by Robert Vesty and A de la Fe. The week consisted of a 6-day workshop for 25 professional dancers, focusing on the use of space and words in performance; public performances of two solo pieces Play by Hamilton and Deep Brown Sea by Hanne; an Evening Talk with Hamilton & Hanne talking in-depth about their work and the making of poetry and dance; and rounded off with a final Discussion Day, which revolved around the question of 'What skills are required of the dancer and poet to produce poetry and dance in performance?' Out of this, a special edition of the journal Choreographic Practices on the topic of words and dance was published in Spring 2017. Space and Words for Dancers was funded by Arts Council England, with further support from Middlesex University and Chisenhale Dance Space. Documentation from the event is archived here.
Performances
Play by Julyen Hamilton
Play is a solo from Julyen Hamilton. It followed on from The Immaterial Wold and The Forerunner pieces which have been shown throughout Europe, in Russia and west centre and east in the USA. Play faces the art of improvisation head-on. It listens to and provides the stream of poetry which is characteristic of Hamilton's work over the past decades. It uses local architecture and objects, refined movement, poignant lighting and precise action to entertain the very moment, to give it throne and street corner, heaven and basement.
Play was performed at Chisenhale Dance Space, London on Thursday 16 July 2015, 7pm
Deep Brown Sea by Billie Hanne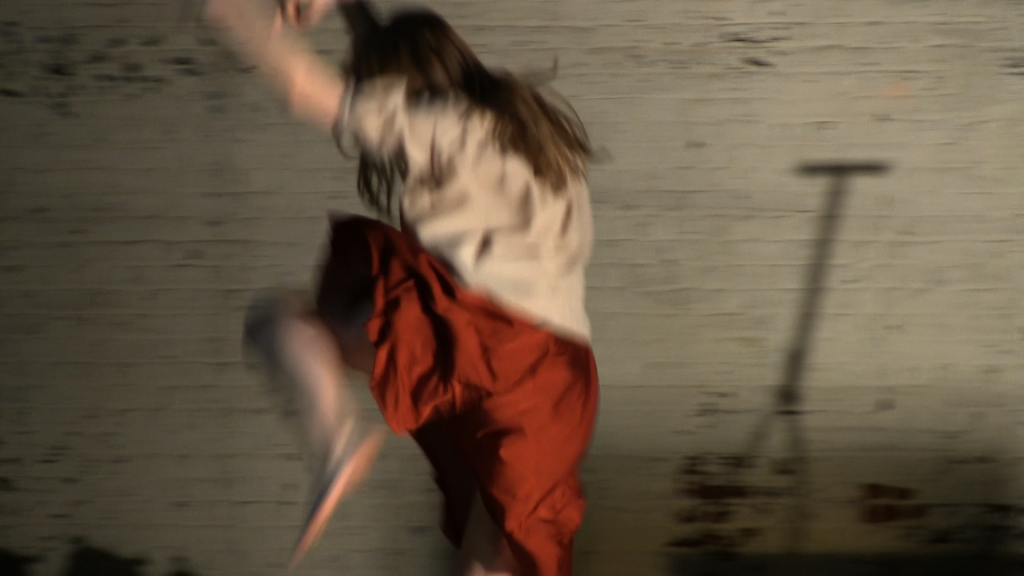 In Deep Brown Sea the world is simple and enormous. It is a giant vessel that is largely empty and every move and word echo for years. There are no transitions, nothing is to be arranged or to be accounted for. The words they come and they are true, full. They might look to have consequence, but there is no such thing at this underwater level below the mud. Action is devoid of reaction and so there is nothing that has to be done.
Deep Brown Sea is a solo piece by The Wheel
Text and Choreography: Billie Hanne
Costume: Eloïse Neuville
Overall Vision: Billie Hanne
Deep Brown Sea was performed at Chisenhale Dance Space, London on Thursday 16 July 2015, 7pm
The Workshop
A 6-day dance workshop investigating the specific areas of space and words with Julyen Hamilton & Billie Hanne ran from Monday 13 to Saturday 18 July, 2015.
T H E S P A C E I S S U E (with Julyen Hamilton)
In space both voice and body have place, have volume. In this volume can resound what emanates from us as we make dance and words. Space as a central area of obsession in the dancer's work concerns both geometrical and emotional powers as a basic language of sensitivity and communication.
W O R D S I N P E R F O R M A N C E (with Billie Hanne)
When a dancer produces words and movement he engages the powers of the space and of his actual body. It is suggested to think about voice and text in a three-dimensional way to allow the dancing body to be a dynamic place where words take form in the dancer's physicality.
Participants
Makiko Aoyama
Sophie Arstall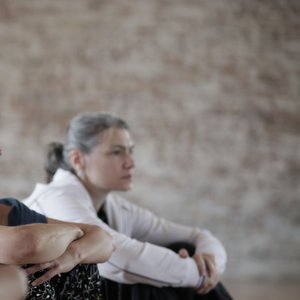 Antigoni Avdi
Laura Burns
Mariana Camiloti
Lavinia Cascone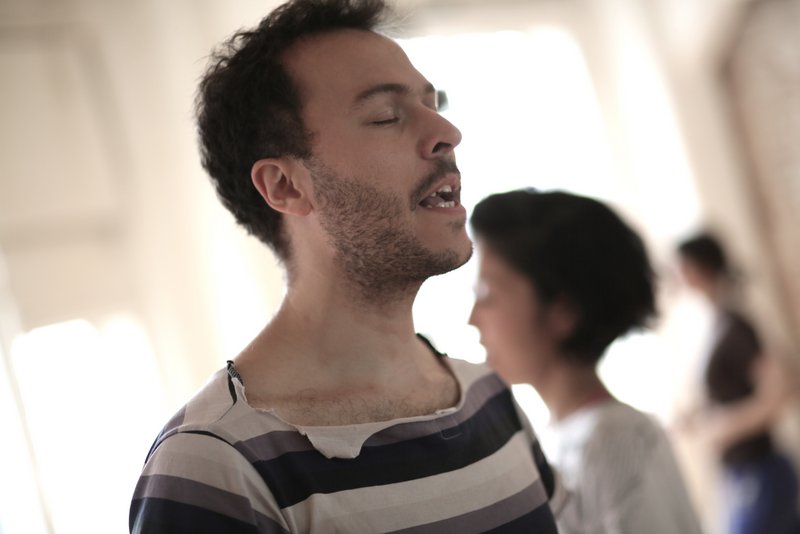 A de la Fe
Kathleen Downie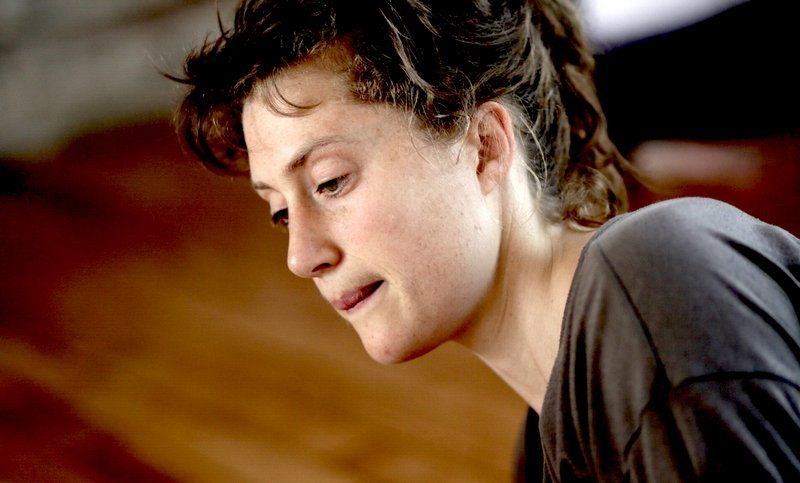 Margaret Faith Dewes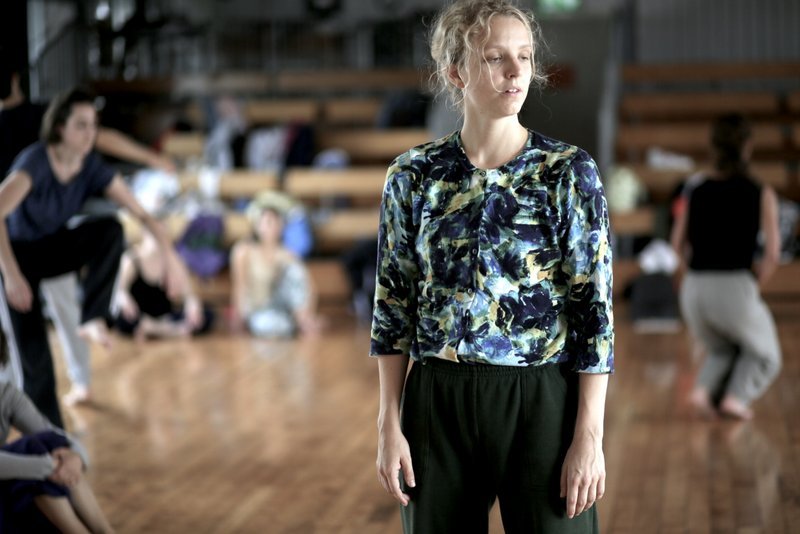 Tora Hed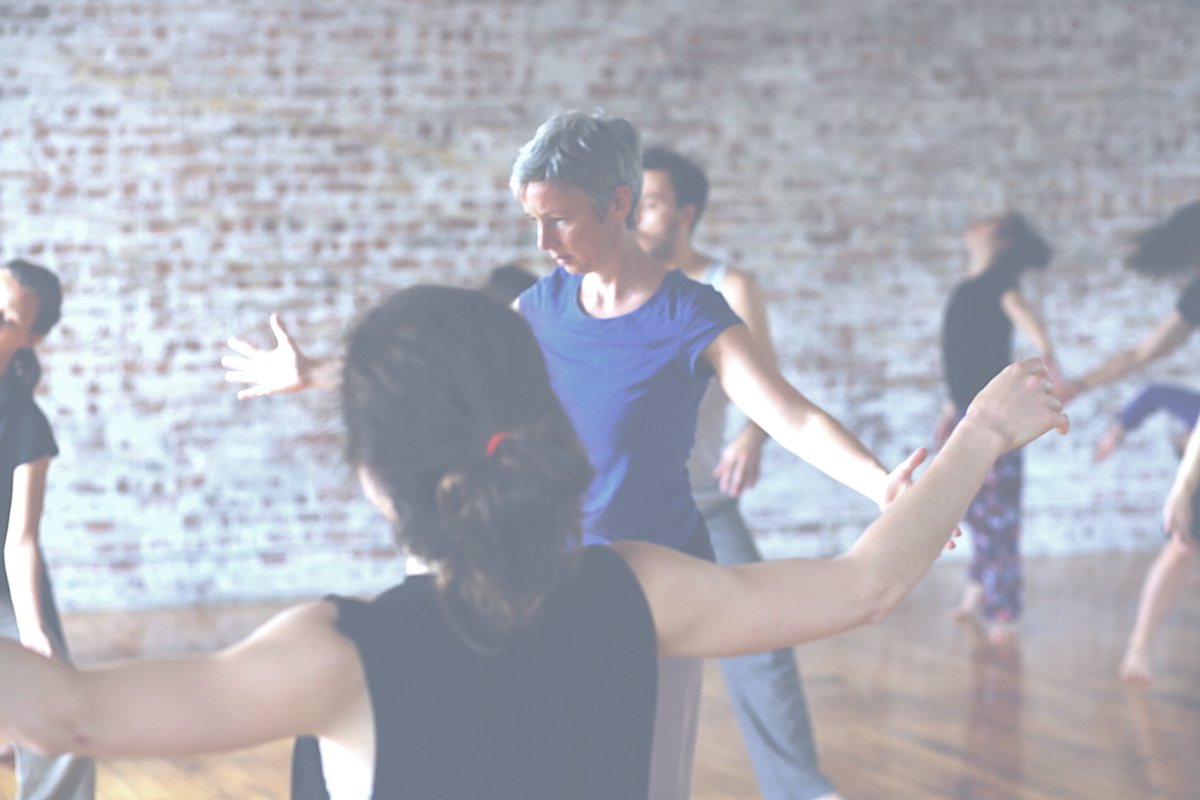 Kate Hilder
Susan Kempster
Sarah Kent
Aya Kobayashi
Manou Koreman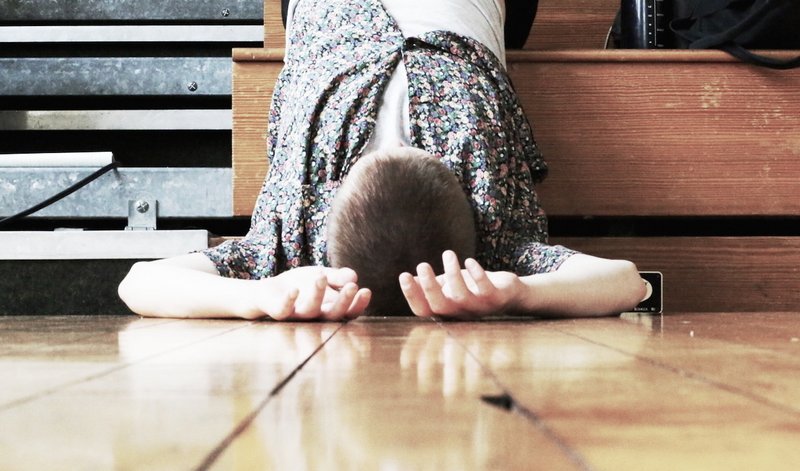 Inari Hulkkonen
Lizzy Le Quesne
Jan Lee
Bence Mezei
Stefania Petroula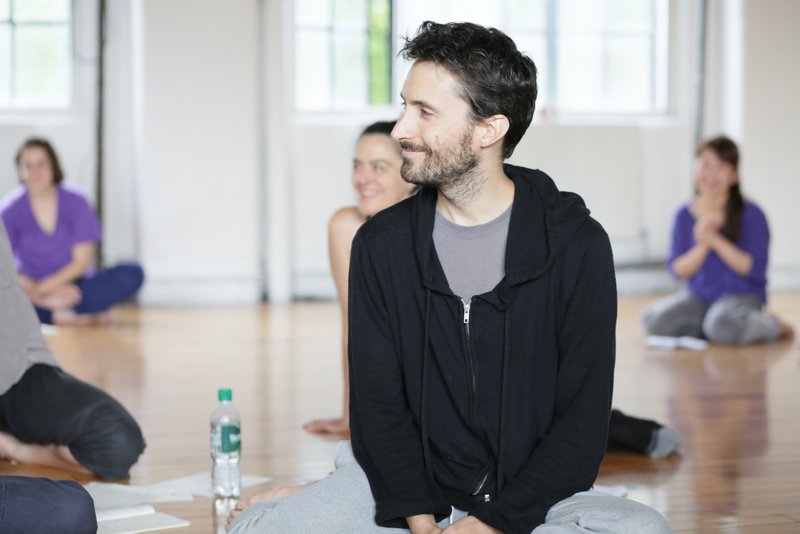 Martino Redaelli
Delphine Robet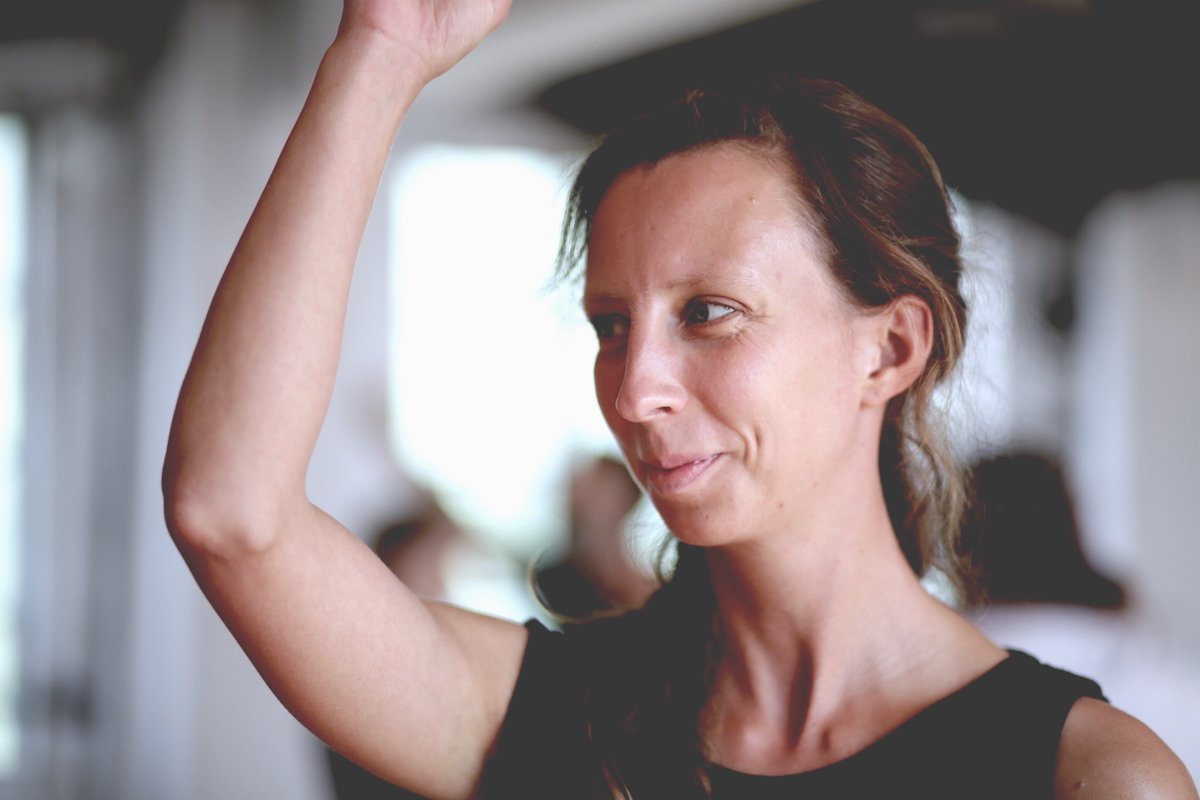 Petra Söör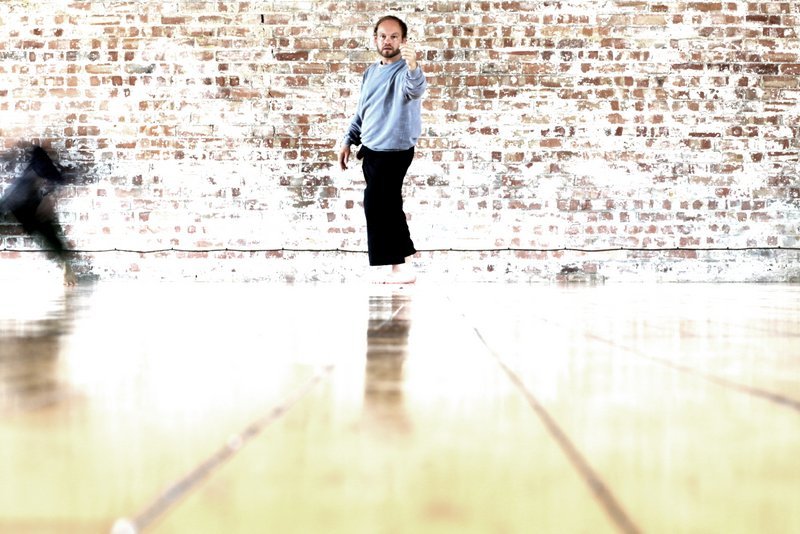 Robert Vesty
Photos by Maria Andrews
Photographer/Film-maker, Maria Andrews, was with us in the studio throughout the week. Here's a selection of her work.
Conversations
An Evening Talk
An Evening Talk with Julyen Hamilton and Billie Hanne speaking in-depth about their work and the making of poetry and dance took place on Friday 17 July, 2015 at Chisenhale Dance Space. This public event was a unique chance to listen and talk and ask questions directly about the practice of performing text and dance supported by rich imagery and footage.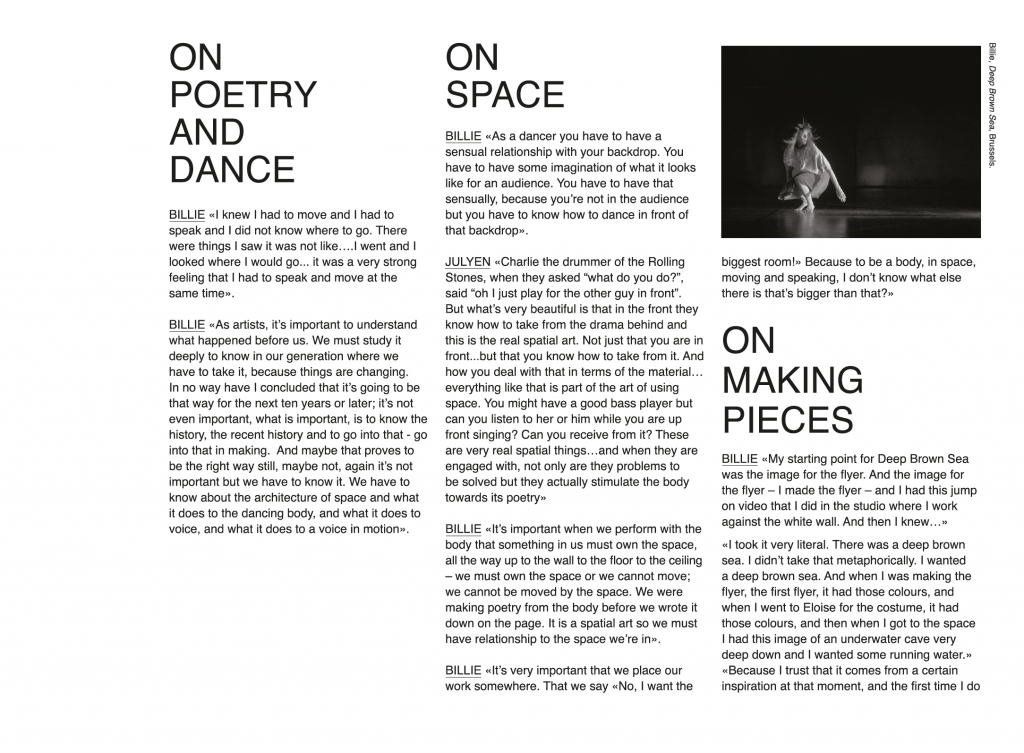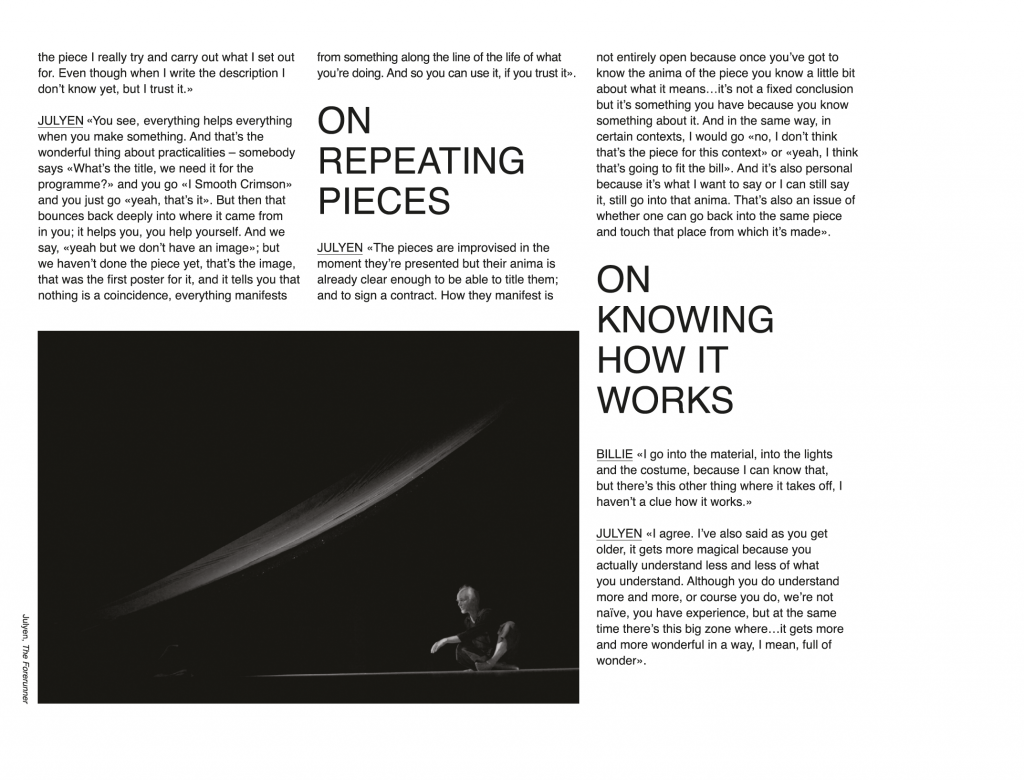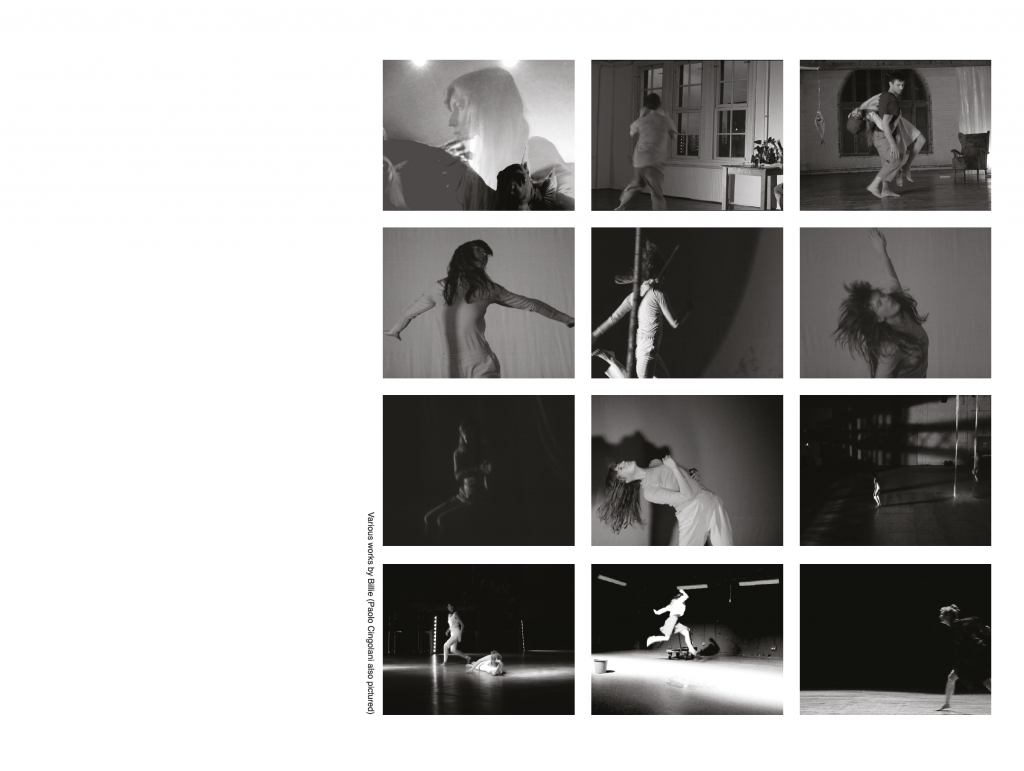 The Discussion Day
The Discussion Day used Open Space Technology (OST) and took place on Sunday 19 July, 2016 10am – 5pm at Chisenhale Dance Space responding to the question: What Skills Are Required of the Dancer and Poet to Produce Poetry and Dance in Performance? This was an opportunity for dancers, poets and scholars to come together to think, debate and plan action. Its outcomes are fully documented in the following blog posts.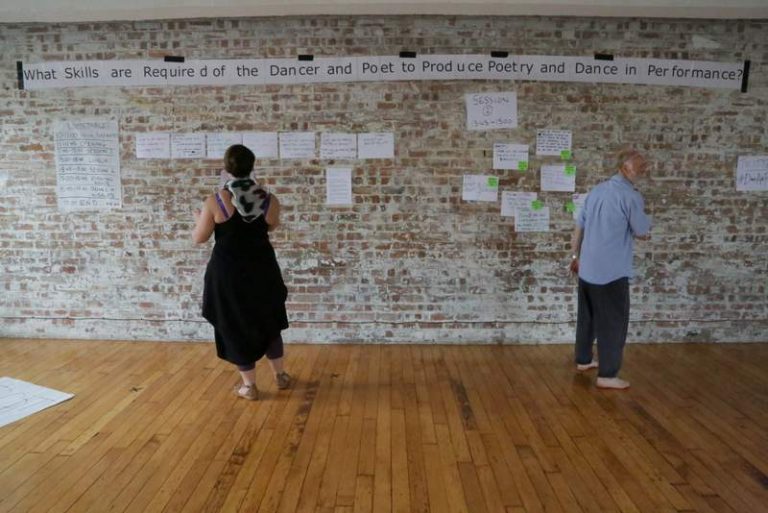 What Skills are Required of the Dancer and Poet to Produce Poetry and Dance in Performance? REPORT? What are the different/similar processes of languaging and moving?  (VIDA) Typed How Do I Start to Work In A Studio? (STEFANIE) Typed How can I get beyond my resistance and perform regularly (KATE) How does the poem remain…
After the Work-Week
Space and Words Collective
Several participants continued to practise and perform as Space and Words Collective and document the work as part of this project.
Use/User/Used/ is an exhibition that explores the effects of 24/7 working culture and questions societal pressures to continuously perform. The show presents works from the Zabludowicz Collection alongside new live performance and dance commissions. Space and Words Collective will participate at Use/User/Used/ exhibition on Saturday 6 and Thursday 18 February between 12noon and 6pm. This…
A group of us, Sound Life Collective, participated at the Spontaneous Combustion 2015 festival, hosted at the Copeland Gallery in Peckham performance: Antigone Avdi, Lavinia Cascone, Susan Kempster, Sarah Kent, Jan Lee, Tim Murray­-Browne, Delphine Robetsound design: Tim Murray-Browne, Jan Leeperformance photos and videography by Petra Puchelova
---